About Us
AB Pumps & Engineering Company was established in 2001 and involved in diversified manufacturing products such as progressive cavity pumps and spares, automobile spare parts, Textile components. In 2020 they diversified into the manufacturing of Progressing Cavity Pump and spares in the name of Profik Pumps Pvt Ltd. Devoted unit for manufacturing pumps and spares. Progressive Cavity Pump installed with complex profile of rotor and stator and other rotating parts.

Our Vision
Our Vision is to be a famous global fluid engineering solution provider by achieving the below objectives.
To Be The Most Successful Company In Our Market.
To Be Skilled Than Our Competitors.
To Nurture Employee Who Takes On Leadership Roles & Responsibilities.
To Respect Social Values & the Environment.

Our Mission
Our mission is to among the first five global Positive Displacement Pump manufacturer by the year 2030 by setting a benchmark on the below constrains.
Identifying new products, services through our development.
Effective innovation of new processes.
Expanding infrastructure and adopting innovative technology.
Achieve maximum efficiency in production processes and thereby ensure zero defects in all our products/service.
Ensure prompt delivery of quality products.

Marketing & Servicing Infrastructure
Being a growing company in Indian market and reflecting its commitments to closely work within its clients, we operate through a network & planning to open our branches and distributor in all over India. Our distributors are professionally qualified and factory trained engineers for on time pre sales and after sales support.
Manufacturing Facility
We are based in the Manchester of Tamilnadu at the city of Coimbatore. The factory is built on 11,850 square meter area having all infrastructure facility such as air, water with 100 KVA electric power connections and 100 KVA diesel generating sets for interrupted power supply.
Machine Shop
Our latest machine shop houses for Milling centers, Center lathes, rotor machining, Radial drilling machine, horizontal boring machine, Vertical boring machine, shapers, thread milling machine etc. We have well developed suppliers for supply of stator. It provide us rubber stator according to our requirement with a satisfactory quality. We have facility of Zn plating & hard chrome plating for surface treatment of rotor and shaft.
Why Choose Us?
We have the experience and skills to cater to the complex requirements of Progressing Cavity Pump and retrofit parts. Our expertise and know-how of the domain is second to none.
We have the support of efficient sales team to guide and assist clients throughout the process. Our sales experts maintain communication with clients to understand and meet their demands with appropriate products.
We stock appropriate levels of Industrial Progressive Cavity Pumps and Progressing Cavity Pump, Retrofit Parts to meet urgent and huge demands of customers easily.
We have tied up with known logistics companies to help us make our products reach to clients selected location without any delays or hassles.
We keep the payment process as simple as possible by offering multiple modes to clients like cheque, online payment, cash etc.
Our Focus
Since the day we started our business, our priority has always been our customers. We believe a happy customer is the key to success. Therefore, we go extra lengths to retain our customers and earn their lasting trust. Besides, we attend to every customer with equal respect and courtesy as we work in accordance to highest professionalism and ethical standards.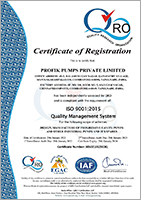 Read More